We often hear and read that leadership is crucial in business. In any business. Is this importance overstated? Having worked in the luxury-segment hotel industry, I subscribe to the idea that leaders have a strong influence of how, and how well, the workforce operates – especially in the hotel industry.
Leaders not only influence how well their workforce (including several layers of leaders) do their work. For instance, turnover and turnover intention in the hotel trade is estimated by some specialist sources to range from some 30% to 70% in recent years, against an average of less than 15% (according to the CIPD).
More than anything, retention is driven by leadership. Employees need to feel valued, they need to feel they have opportunities for growth and development. Besides this, they need meaningful and positive relationships with their manager, their boss, the person they report to.
In organisations where engagement levels are high, in large part due to effective leadership, productivity may be well over 20% higher, retention may be nearly half of what it otherwise would be. Logically, the bottom line looks much healthier in those organisations.
Challenges
Attracting, developing and retaining staff has long been acknowledged to be a difficult challenge for the hospitality industry. Skills shortages are said to be rife and are often seen as another huge headache in this sector.
Working in a 4 or 5-star hotel is hard work. Low pay, fluctuating tips ("If any, on any given day", you can hear waiting staff say), limited career prospects, demanding guests who know what they want, unsociable shifts. Opinions are backed up by research that suggests that leadership in hospitality is clearly pivotal in creating a work practice where people are motivated by their leaders.
Leadership styles
Servant leadership may be a way in which leaders can increase the chances of bringing out the best in their followers. Servant leaders tend to communicate directly with their staff – their manner is perceived to be duly 'direct', transparent, and authentically personal. They communicate with the intention to understand their needs and concerns, and their aspirations – and these servant leaders end up understanding 'how their staff tick'. Servant leaders lead, as such, but they do that with a view to being of service to their members of staff – all for the ultimate benefit of the business.
I would argue that leading in hospitality sector needs to reflect what may be called hospitable leadership: successful leaders in hospitality demonstrate a leadership style that not only enables and inspires and sets strategic direction, truly welcoming input and viewpoints from operational staff and leadership levels that report to them, but also empowers those echelons and gives them due care and compassion, combined with a level of increasing self-direction and autonomy. This requires not only able leadership, but also calls for a suitable set of values and characteristics to be possessed and upheld by leaders.
Effective leaders understand and value the contribution of careful, predictive hiring decisions to the quality of the work being delivered in their organisations. In the hospitality industry, then, this relates to members of staff who posses certain personality characteristics and levels of interpersonal skills, stress resilience and, for instance, empathy – especially guest-facing staff. And that is just about 100% of the workforce in any hotel establishment.
Personality
The achievement-oriented nature of conscientiousness as a personality domain maps well onto those characteristics of employees who are oriented towards learning. Such employees tend to be motivated to achieve, succeed and persevere when faced with challenges or difficult tasks.  Agreeableness is another relevant factor of personality that relates to performance in world of hospitality: for instance, high-performers are likely to display courteousness, a concern for others and generosity. High scorers on the trait of agreeableness (one of the 'big five factors' of personality) tend to be good-natured and eager to cooperate and avoid conflict. They are more cooperative and willing to trust those around them (colleagues and others around them). The one area where agreeableness – as a key variable of personality – is less straightforward is where effective leaders need to be able to take challenging decisions and hold others to account. This may be more difficult for those who score high on (facets of) this domain.
In today's world, leaders in the hospitality industry (as elsewhere…) need to show the example. The example of shaping an inclusive work environment and showing respect for a wide variety and types of guests who the hotel establishments are welcoming, where diversity is embraced – but, importantly, all this not only applies to its guests, but also its workforce.
Shaping a leadership approach
As in all other areas of industry, effective leaders in hospitality 'know' themselves; i.e. they understand their impact and how they are perceived. They stay humble. They show some humility and courage to admit they (too) can 'get it wrong', can lack certain insight or knowledge or benefit from the expertise of their colleagues who report to them or are (far) lower in the hierarchy. Successful leaders build trust, respect and goodwill, whilst being authentic, compassionate and transparent. They also embrace the leadership strategy of complementarity of strengths and they invest in real opportunities for growth. These leaders understand that such an approach is a prerequisite for building a 'learning organisation'.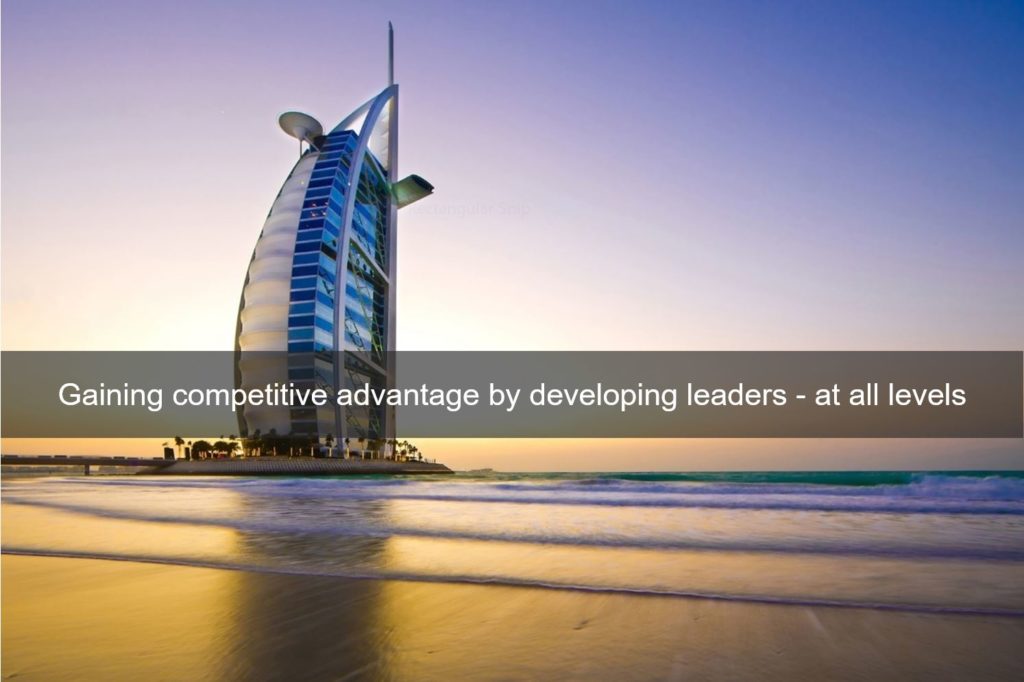 The above means that successful businesses are those that understand that competitive strength is gained by developing their leaders, at several levels of leadership. A more indirect advantage is that potential employees who become aware of the ethos of such organisations (a task in itself that is directed and cascaded by the leadership team) will be attracted to these companies; they offer more opportunities for personal and professional growth, and for earned trust and loyalty of staff, let alone the trust and loyalty of its customers – or, in the case of hospitality: its guests.